On May 27, 1995, actor Christopher Reeve was competing in an equestrian competition in Culpepper, Virginia when he was thrown from his horse, causing a C2 spinal cord injury that left him a quadriplegic for nine years until his death in 2004.
The heartbreaking irony is not merely that an actor best known to the general public as Superman was left permanently disabled. The worst part was that Reeve did not even want to be at this particular competition in Culpeper that weekend. He had originally planned to compete in Vermont.
Such begins the memoir of a man I've looked up as a hero since the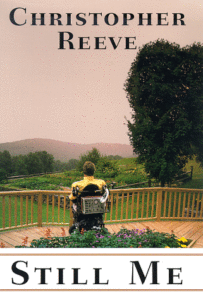 age of seven when I first saw Superman: The Movie. Reeve opens his life story at a point where he had been certain his life would end, delving into excruciating detail about the damage inflicted on his body and mind as a result of the accident. At one point, after receiving the initial news of his condition, he urged his wife, Dana, to let him go. She replied that she would do so only if that was what he truly wanted, but reminded him that, "You're still you and I'm still me." According to Reeve, that was all he needed to hear to bolster his will to live.
However, a true of man of steel cannot be kept down and despite the odds against him, despite the many post-accident setbacks, despite the personnel and equipment necessary to keep him alive and as healthy as possible,  Reeve persevered. He went on to make several public speeches advocating an increase in funding for the NIH and the National Endowment for the Arts. He also directed the critically acclaimed and award-winning 1997 film, In the Gloaming, starring Glenn Close, David Strathairn, Bridget Fonda, Robert Sean Leonard, and Whoopi Goldberg.
Interspersed with tales of his treatment and battles with insurance companies, Reeve takes us on a tour of his broken family life as a child, through his college years at Cornell, and his acceptance into Juilliard—under the iron scowl of John Houseman—and his burgeoning friendship with Robin Williams.
He shares his love of sailing, flying, and equestrian sports and his general zest for life, but above all else, his love for his family shines through as he remembers the birth of his three children and the first time he met his future wife, Dana Morosini. Dana was a member of the Cabaret Corps of singers at the Williamstown Theatre Festival in Massachusetts while Reeve was appearing in a play called The Rover by Aphra Behn. He practically fell in love with her at first sight.
Although he was ranked as an "A" list film actor for many years, Reeve's stage career was far more impressive, having worked on and off Broadway with such names as Katherine Hepburn (A Matter of Gravity), Jeff Daniels (Fifth of July) and many others. His stage credits include Death Takes a Holiday, Richard III, Summer and Smoke, Love Letters, and dozens more. During his time at Juilliard, he worked in the Acting Company with Kevin Kline, David Ogden Stiers, Patti LuPone, and others.
Then came Superman as well as Somewhere in Time, Deathtrap, The Aviator, The Bostonians, Remains of the Day and other films of which Reeve speaks highly. On the other hand, he blames such flops as Street Smart, Superman III and IV, and Switching Channels for knocking him out of Hollywood's "A" list.  In fact, his comment on Superman IV was simply, "The less said about Superman IV, the better." Although he takes partial blame for its failure.
All told, Still Me is a journey through the extreme highs and plummeting lows of a life that was fully lived by a man who many consider a hero to this day. I count myself among them.