Since Amazon adjusts prices at their whim, I just discovered today that the paperback edition of my first novel, Testing the Prisoner, is on sale for $3.99. That's $1 less than the Kindle version! I have no idea how long this sale will last, so if you're interested in an emotional and deeply human story wrapped in a paranormal mystery, you will not be disappointed.
Daniel Masenda thought he had made peace with his dark past when he left his home for a better life fourteen years ago. As the mayor of a small, tranquil town along Virginia's Eastern Shore, Daniel has everything he ever wanted – until a series of haunting visions, coupled with the death of his estranged mother, pits him against two ghostly entities at war with one another. Each has its own agenda as they force Daniel to relive moments from his violent youth and push him to the edge of insanity. As his idyllic life begins to unravel, will he be able to decipher the message behind the hauntings before they destroy, not only him, but the soul of someone he left behind?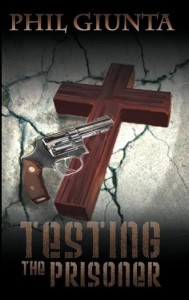 Check out the reviews for Testing the Prisoner on Amazon and Goodreads and pick up a copy today. Thank you for supporting small press authors!