In an effort to win the heart of a fickle young lady, intrepid newspaper reporter Edward Malone volunteers as a member of an expedition to South America to seek proof or otherwise debunk the wild claims of arrogant and intractable paleontologist Professor George Edward Challenger.
Upon returning from South America many years prior, Challenger claimed to have discovered prehistoric life still thriving atop a plateau deep in the jungles of Brazil. Unfortunately, his camera was damaged during a boating accident, leaving him with scant and inconclusive photographic evidence and only the sketchbook of one Maple White, a poet and artist who died of severe injuries shortly after escaping this supposed land of dinosaurs.
During a contentious interview, Challenger permits Malone to peruse the sketchbook, wherein White had drawn numerous mundane flora and fauna—until the final image of an impossibly large reptilian creature. Malone, however, remains unconvinced.
Despite his unadulterated aversion toward the press, Challenger sees some potential in Malone and invites him to a meeting of the Zoological Society where Professor Challenger, living up to his name, disrupts the guest lecturer when mention is made of the extinction of the dinosaur before the dawning of man.
Challenger's claims of eyewitness accounts of pterodactyls in Brazil draws ridicule from both the audience and his peers, including one botanist and zoologist Professor Summerlee.  By the end of the raucous evening, a new team of explorers agrees to travel to Brazil and put the matter to rest. In addition to Malone and Summerlee, famed adventurer and big game hunter Sir John Roxton offers his considerable skills.
Shortly thereafter, the trio embark for South America and are surprised by the appearance of Professor Challenger himself once they reach Brazil. Challenger naturally assumes the role of team leader and guide as the adventurers, along with a number of local hired hands, begin their voyage along the Amazon into the realm of the unknown—where they encounter far more than any of them ever imagined possible.
The story is told from the POV of the reporter,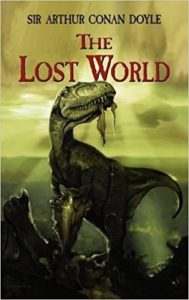 Edward Malone, as he journals the team's adventures through this unfathomable—and unmistakably treacherous—domain.  It had been at least 30 years since I'd last read The Lost World, yet so many elements remained with me since then, such as the cantankerous and haughty Professor Challenger, the fearsome ape men, the pterodactyl pit, and a few other vivid details. After reading it again this past week, I found myself just as enthralled as I was the first time. This should come as no surprise since much of Doyle's work, most notably Sherlock Holmes, has soundly withstood the test of time.