We're home from yet another fantastic Farpoint where I finally had the honor of meeting someone I consider an inspiration as a writer and storyteller—Nicholas Meyer. Mr. Meyer's directing and/or screenwriting credits include Time After Time, Star Trek II: The Wrath of Khan, Star Trek IV: The Voyage Home, Star Trek VI: The Undiscovered Country, The Day After (TV movie), and much more including the new CBS series, Star Trek: Discovery. He also wrote the Sherlock Holmes novel and screenplay, The Seven-Percent Solution.
I wanna be THAT guy when I grow up! 😀
After a thoroughly enjoyable dinner at La Tolteca with Aaron Rosenberg, David Mack, Chris Kennedy, Glenn Hauman, and Eric Bakutis, it was time for the Friday night book fair, where I would have the opportunity to meet Nick Meyer.
Earlier in the day, I had purchased a replacement copy of The Seven-Percent Solution from a dealer. From my personal collection, I brought copies of the scripts for the aforementioned Star Trek movies while my wife, Evon, brought her hardback copy of A View from the Bridge, Mr. Meyer's memoir of his time working on the Star Trek films.
As Mr. Meyer signed my items, I told him that he was one of my writing heroes, which actually brought him to a complete stop. He became momentarily verklempt, as did I.  He thanked me as he continued signing. Before having our photo taken together, I presented him with a copy of By Your Side, one of my paranormal mystery novels. He seemed genuinely grateful.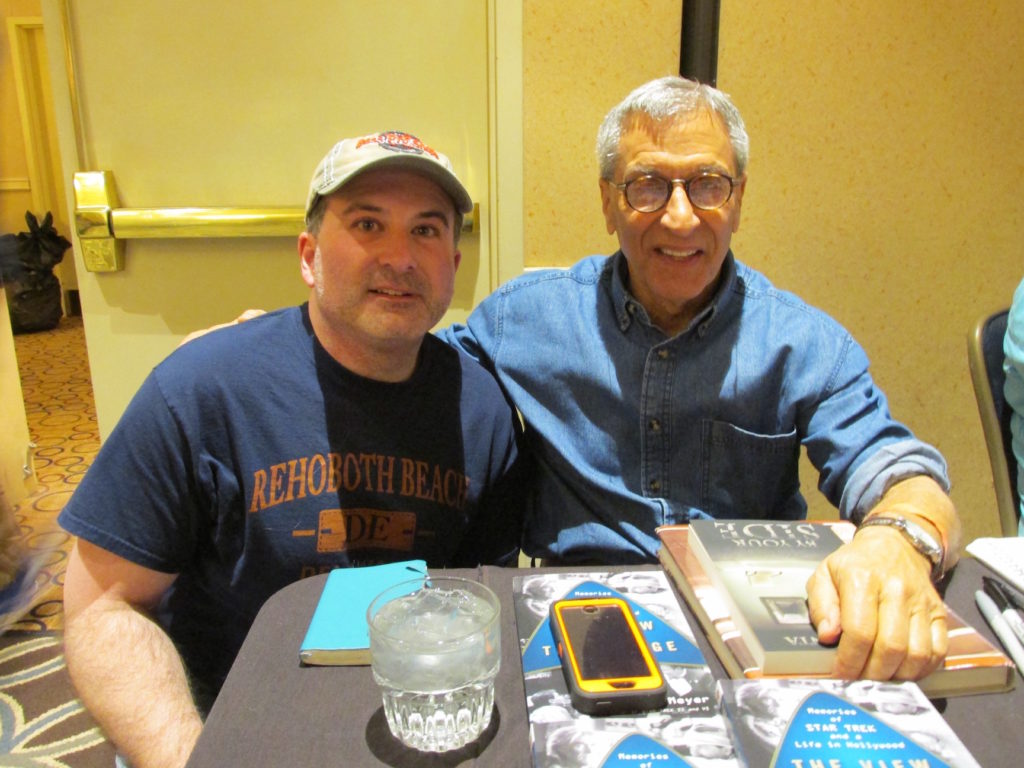 After that, I returned to my table where shenanigans ensued as Bob Greenberger began swapping name placards amongst nearby writers including myself, Aaron Rosenberg, Kelly Meding, Steve Wilson, and Lance Woods. Cameras, bottles, cans, even Steve Wilson's  flask were not spared from the hide-and-seek hilarity. This added even more magic to the evening. You just can't find a group of silly scribes like this anywhere else!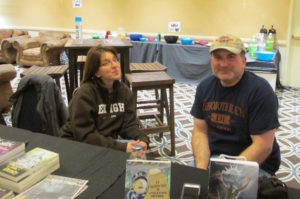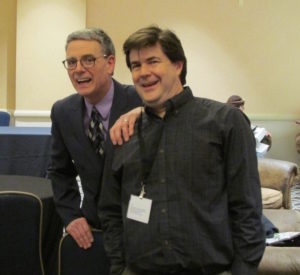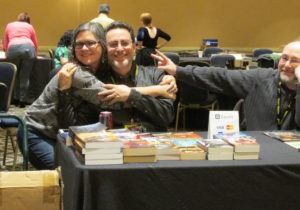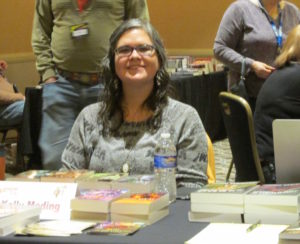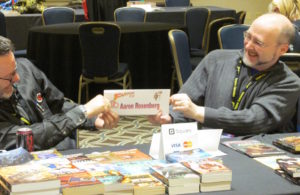 My table was part of the Firebringer Press row that included Steven H. Wilson, Lance Woods, and debut author Diane Lee Baron with her novel, Gal Wonder. Click here for more info on Diane's book!  By the end of the night, I sold a few books and signed one that a reader bought elsewhere (which is always a good feeling).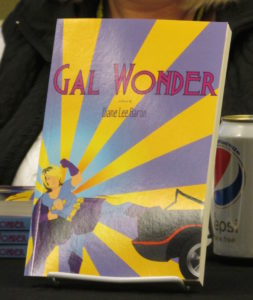 Saturday morning began with my wife and I taking our Star Trek II posters to Nicholas Meyer for yet more autographs and photo ops.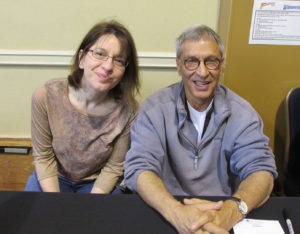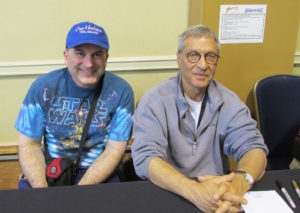 My first panel of the day was Firebringer Press Presents at 11AM.  Diane Lee Baron chatted up Gal Wonder, which had a "soft" launch at Farpoint's book fair, but will have a full premiere at Shore Leave in July along with the mass-market paperback collection of Steve Wilson's Arbiter Chronicles SF novellas.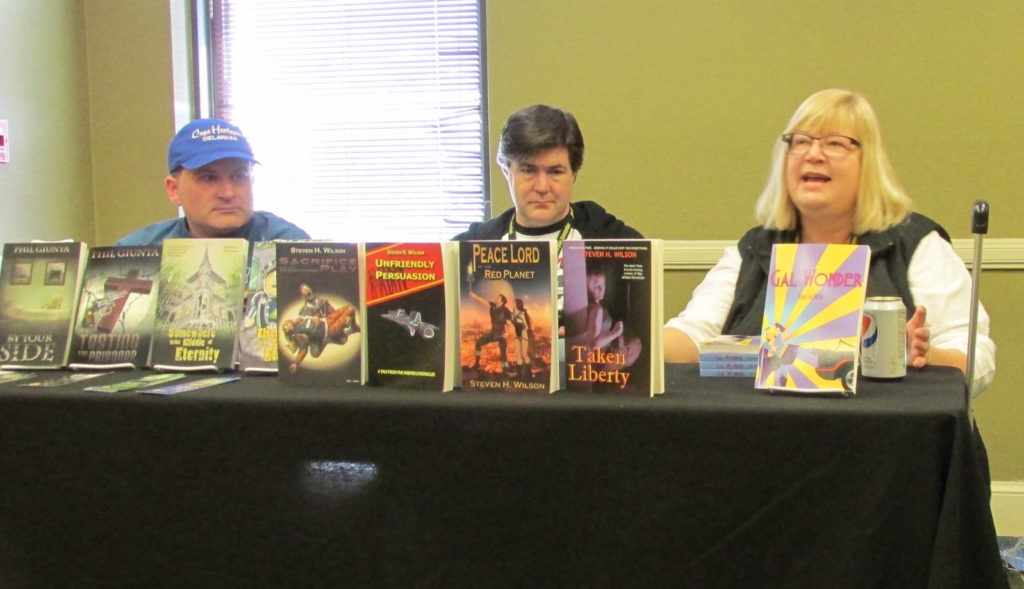 I spoke about Like Mother, Like Daughters, my paranormal novella slated for release in October, as well as my second-place winning Rehoboth Beach contest story, "Tower Sixteen," which was recently submitted (with its original ending) to a paranormal anthology slated for next year. If accepted, it would be my first story to be published in two different anthologies and with two different endings!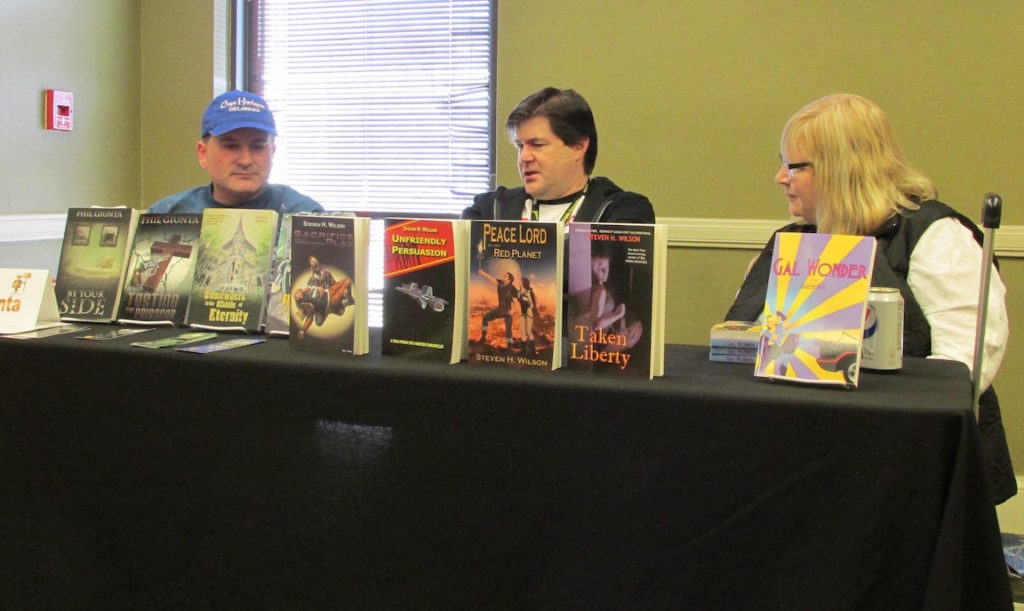 Michael Critzer chatted briefly about his upcoming non-fiction book, Heroic Inspirations, debuting this summer. Michael has taught courses on the mythology of superheroes and this book will represent a extension of that.
Afterward, Steve Wilson and I made our way to our scheduled readings at noon. Our audience consisted of Michael Critzer and my wife. Writer David Mack then arrived to finish the hour with his reading, but with such a small gathering, we simply yammered instead.
I was then free until 3PM when I shared a table with Peter David for our autograph hour. It was wonderful to spend time talking with him about his own work as well as the legendary Harlan Ellison, another writer who inspired me and has been close friends with Peter for decades. With no sales, and with Nick Meyer speaking at 4PM on the main stage, I packed up my books early, dropped them off in my room, and joined my wife who was saving a seat for me in the ballroom.
Mr. Meyer regaled an appreciative audience with stories of his first meeting with producer Harve Bennett about writing Star Trek II. A few drafts of the script (each a completely different story) had been written, from which Bennett and Meyer created a list of the best parts. From that list, Meyer wrote an entirely new script, but waived credit for it. This was after he had already signed on to direct.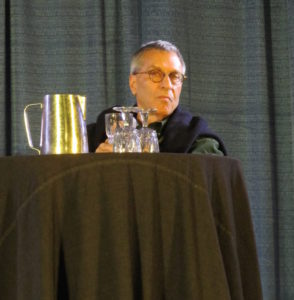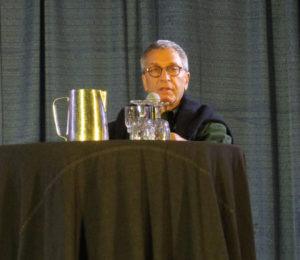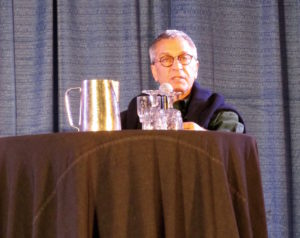 He also spoke about working with Ricardo Montalban (whose much-debated chest was actually his own, not a prosthetic), his vituperative relationship with Star Trek creator Gene Roddenberry (who balked at the story for Wrath of Khan), and touched on the film adaptation for The Seven-Percent Solution.
Mr. Meyer's presentation ended with a skit in which linguist and Farpoint regular, Marc Okrand—who developed the Klingon language for the Star Trek movies—read a "communique" from the Klingon Empire, translated into English by Nick Meyer,  honoring Gene Roddenberry and all of the main Star Trek actors that we've lost over the past 25+ years including DeForest Kelley, Mark Lenard, Majel Barrett-Roddenberry, James Doohan, Leonard Nimoy,  and Grace Lee Whitney.
At 6PM, I had the honor of moderating (somewhat nervously and perhaps ineptly) a discussion panel called "Avoiding Cliches in Your Writing" with panelists Lauren Harris, Peter David, and the reason for my jitters…Nicholas Meyer. However, the panel was entertaining and informative, but not without each of us veering off into tangents once in a while. Yet even as moderator, I would never have the temerity to interrupt Nicholas Meyer!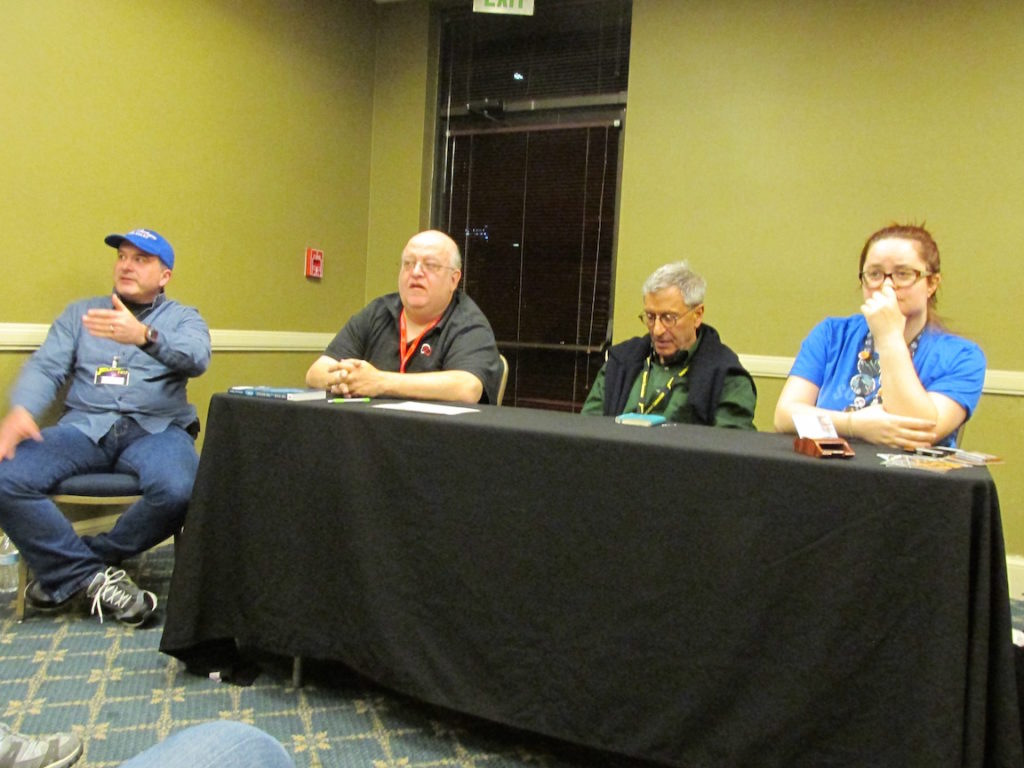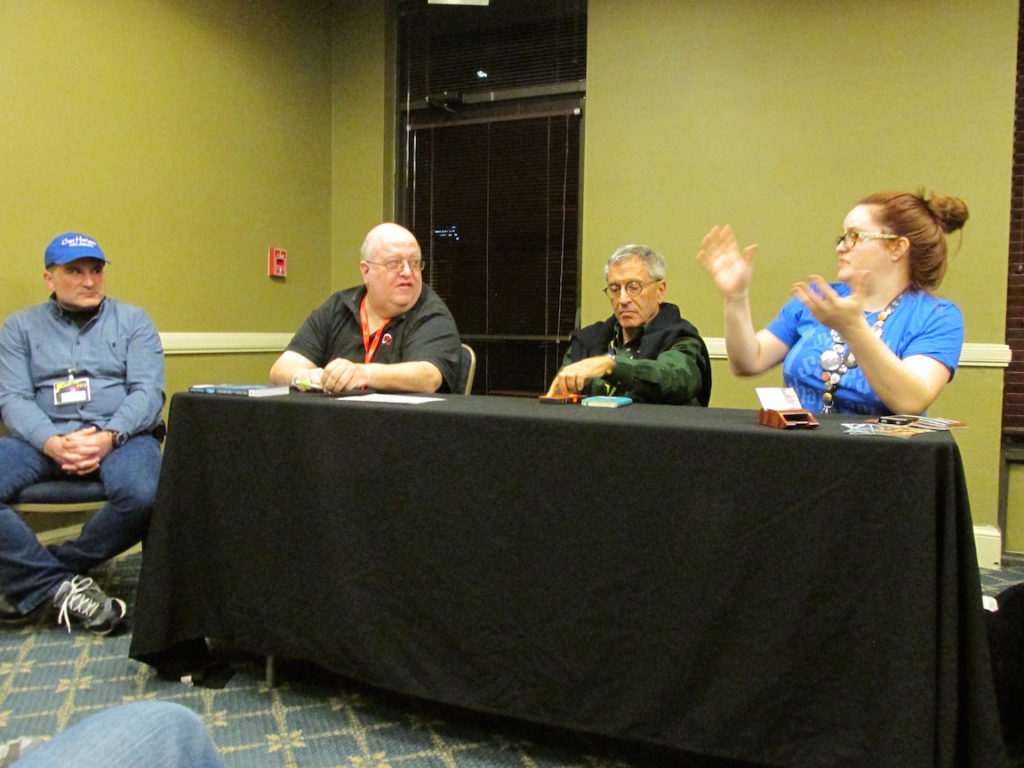 My wife and I ended our evening with dinner at the Silver Spring Mining Company (love that place!) before calling it a night. Normally,  I would have stayed up late and joined my fellow con attendees at the Ten-Forward Dance Party in the atrium, but I was exhausted and wanted to get a few things done online.
Of course, in between the book fair, discussion panels, and autograph sessions, my wife and I caught up with old friends that we only see at the cons. This is an important reason why many of us attend. In fact, for some it is the only reason.
Since I was not scheduled for anything on Sunday, my wife and I departed by 9AM and made it home before noon to enjoy our first taste of spring weather. Sunshine and 65F degrees!
It should be noted that there was still a full day of programming on Sunday at Farpoint including a 2PM showing of Time After Time hosted by Nick Meyer.