For ten weeks in 1954, then twenty-year-old writer Harlan Ellison adopted the alias of teenager Phil "Cheech" Beldone and joined a NYC street gang called the Barons all in the name of research—an endeavor that nearly cost Ellison his life on more than one occasion, from the gang initiation ritual to the final savage, bloody rumble against a rival gang in Prospect Park.
Fast-forward seven years to 1961 when Ellison attended a gathering in NYC and encountered an old "friend" named Ken Bales to whom Ellison had loaned a typewriter—which Bales promptly hocked. While at the party, Ellison took the opportunity to demand compensation from Bales. A few days later, two detectives arrived at Ellison's apartment based on an anonymous report of drug parties and illegal weapons. Was Bales the caller? Ellison seemed to suspect as much.
Known for this vociferous anti-drug lifestyle, Ellison explained to the detectives that there were no illegal narcotics in his apartment and the weapons, taken from a street gang, were now used as part of his popular lectures on juvenile delinquency. After allowing the detectives to search his apartment, Ellison is relieved to learn that no charges will be filed for narcotics—but they will have to arrest him on possession of an unregistered firearm, as a .22 caliber pistol was among the gang weapons.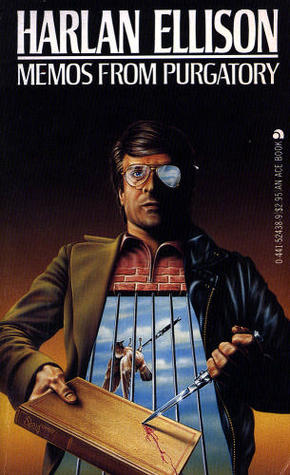 Thus begins the second part of this memoir—Ellison's vivid and dramatic description of his 24 hours in jail. Here is where the narrative runs longer than necessary and I can understand why many readers consider it whiny.
Memos from Purgatory is an unflinching, up-close-and-personal examination of street gangs and the callous NYC legal system of the times. It was one of Harlan Ellison's bestselling books for nearly 25 years. While the material is obviously dated, the color of Ellison's honest and raw narrative has not faded. I think the same can be said for most of his work.
Of course, what Harlan Ellison book would be complete with an expository introduction? In this case, my 1983 ACE paperback edition contains three intros, one written for this book and two from each previous printing. Ellison's commentaries are nearly as enjoyable his stories!