As we close in on the annual New Year's Twilight Zone marathon on the SyFy channel, I decided to delve into two collections of stories that I was fortunate enough to find in August while helping to sort donated books for my local library's annu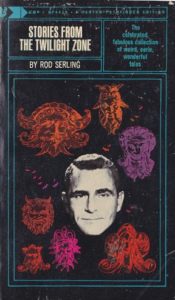 al book sale. I hope to track down more of these collections as I comb used book stores and dealer tables at conventions.
Last week, I reviewed the 1964 collection, Rod Serling's Twilight Zone Revisited, which contains a brilliant collection of nine short stories, adapted by venerable writer and magician Walter B. Gibson, from both produced and unproduced scripts.
Stories from the Twilight Zone was published in 1960 and is, I believe, the first collection of adaptations from the series. All six of the tales in this book aired as episodes of the series and all were written by Rod Serling himself.
In "The Mighty Casey," it's tryout day for the foundering Brooklyn Dodgers and team manager "Mouth" McGarry is sick and tired of scraping the bottom of the barrel to find pitchers, until a tall, lean kid named Casey turns up with an unbelievable throwing arm—or perhaps inhuman might be a better description…
Hypochondriac and all around miserable wretch Walter Bedecker lives in a constant state of psychosomatic illnesses, until a mysterious old man named Cadwallader materializes with an offer of immortality. It's soon revealed that Cadwallader is actually the devil. Nevertheless, this fact barely deters Bedecker from signing the contract, which contains an "Escape Clause" should he ever decide to cancel the deal…
Advertising exec Martin Sloane is sick of the pressures and demands of corporate life in New York City. One day he decides to drive upstate and revisit his old hometown. After stopping at a gas station along the way, Martin notices that the town is within "Walking Distance." He decides to let the gas station attendant work on his car while he finishes the rest of his journey on foot, but what he finds on the streets of his childhood is much more than nostalgia…
As a religious man of high moral standards and a precisely arranged life, Franklin Gibbs becomes quite annoyed when his timid wife wins an all-expenses-paid vacation to Las Vegas, the capital city of vice and sin. Franklin chastises his wife for dropping a nickel into a slot machine, until Franklin hears the slot machine call his name. It isn't long before he succumbs to "The Fever."
A young man, unable to recall his own identity, finds himself walking along a highway in parts unknown. He finally arrives in a town only to find it completely deserted, yet with signs of recent occupancy—a smoking cigar in an ashtrays and a pot of fresh boiling coffee in a diner. After days of this, the young man finds himself on the edge of sanity as he wonders, "Where is Everybody?"
"The Monsters are Due on Maple Street" when a strange object passes over a suburban neighborhood on a warm autumn Saturday. Shortly after, all utilities shut off, cars fail to start, even portable radios no longer work. As confusion sets in, 12-year old Tommy Bishop warns that it could be the work of extraterrestrials disguised as humans, just like in the comic books! The adults laugh him off at first—before violently turning on one another as strange occurrences escalate.