I'm currently reading Ray Bradbury's terrific anthology from 1953, The Golden Apples of the Sun.  Among the many eng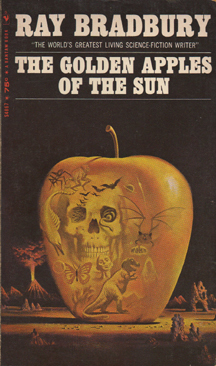 aging tales is a prescient story called "The Murderer," about a man who, in search of simple peace and quiet, destroys all of his electronic devices in a society where constant chatter from watches, radios, computers, phones, and TV has pervaded—nay, INVADED!—everyday life.
It was stunning to note just how accurate Bradbury was about a future still five decades away. Although the story did not deal with such devices pilfering our privacy, the parallel to society's current condition was remarkable.
Then this morning, I find this article, from which I quote: "On Black Friday in 2015, hackers broke into the servers of Chinese toymaker VTech and lifted personal information on nearly 5 million parents and more than 6 million children. The data haul included home addresses, names, birth dates, email addresses and passwords. Worse still, it included photographs and chat logs between parents and their children. VTech paid no fine and changed its terms of service to require that customers acknowledge their private data "may be intercepted or later acquired by unauthorized parties.""
Read the entire article here: The Greatest Privacy Threat of All: Our Connected Devices by Vivek Wadhwa
I've been employed in the IT support and infrastructure field across several major companies for nearly 25 years. I'm also a die-hard science fiction fan. It's logical to assume then, that I might be the kind of person who owns every device that hits the market and who spends hours gaming or keeping up with the latest VR tech.
You'd be wrong. In my personal life, I have a MacBook Pro laptop and an iPhone. For my job, I have an additional Dell laptop, HTC Windows phone, and a Surface Pro. Ask me anything about video games and I couldn't tell you a damn thing. Virtual reality? Couldn't care less. I'm still grappling with the physical reality of the world in which we live and breathe and eat and pay bills and maintain our homes and—at least for now—interact with the people around us without the "aid" of dehumanizing devices.
I manage my schedule with a day planner. You know, the kind with paper pages on which I write…with a PEN. Same with my novels and short stories. I save reams of scrap paper, printed on one side, that otherwise would have ended up in the trash or recycle. I turn these into notepads and write on them, later to be transcribed into Word or Scrivener.
Smart TV? Not in my house. Same with Alexa and all of these "home management" devices. Fuck them. I can manage my home, my life, and be entertained by my favorite shows without some electronic ear eavesdropping on my every conversation. I see families and friendships fracturing more and more as a result of people unable to peel their gazes and fingers away from their phones and tablets as if these devices have become an extension of their bodies.
You have been assimilated. Resistance wouldn't be so futile if you actually tried.
Hell, I don't even own an eReader device of any kind. I have the Kindle app on my laptop, that's about it. I can count on three fingers how many ebooks I've read on it. Of course, I read many Word and PDF files when writers send me their ARCs to read for review, or when I'm critiquing/proofreading stories for writer friends, or accepting submissions to anthologies I'm editing. However, at the risk of sounding like a borderline Luddite, I minimize the use of tech in my personal life for the sake of my own privacy and peace of mind.
Get me outside! To the water with rod and reel, to a nature trail, to the beach where I can sit beneath a canopy on a blazing summer day with a cold drink and a good—physical—book.
OK, enough. Thanks for reading. Now, I'll jump off the proverbial soap box, or wooden crate, or picnic table, and return to The Golden Apples of the Sun…in paperback…from 1953.