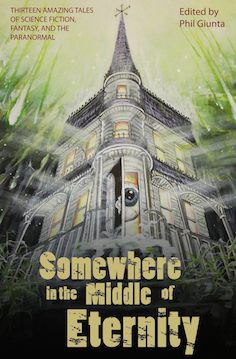 Right now on Amazon,

Somewhere in the Middle of Eternity

is available for only $7.95 in paperback! That's $10 off the standard retail price. I have no idea how long this sale will last as Amazon seems to adjust prices at their whim. Read below for more details about this remarkable speculative fiction anthology!
In eternity, all stories are timeless.
Devastated by war, a young couple finds healing through the intervention of a magical fox… A man obsessed with a burlesque dancer discovers she may not be the beauty she seemed from afar… Desperate to save his dying wife, an exiled scientist makes a discovery that could change the fate of a galaxy… An Irishman finally confronts the specter of death that has tormented him since childhood… An ex-con's hearing aid picks up a vintage radio show that never aired, leading her to a confrontation with the unexpected…
These are but a few of the imaginative tales awaiting you within these pages as chronicled by Daniel Patrick Corcoran, Michael Critzer, Phil Giunta, Amanda Headlee, Susanna Reilly, Stuart S. Roth, Steven H. Wilson and Lance Woods.