The gods of ancient myth have returned. The change promised by the ending of the Mayan Calendar in 2012 manifested itself in an unexpected manner. Every pantheon of gods and goddesses, from every belief the world over, has returned, changing the world forever. As the pantheons settle into their ancestral lands, they vie for worshippers, gaining or losing power along the way. They find the world of man a bewildering, crazy quilt, and each wishes to remake their lands in their own image. Come and meet some of the inhabitants of this strangely familiar world in eleven new tales that explore what it means to worship in this new reality.
Chronicling this new tomorrow are Dave Galanter, Allyn Gibson, Phil Giunta, Robert Greenberger, Paul Kupperberg, William Leisner, Scott Pearson, Aaron Rosenberg, Lawrence M. Schoen, Dayton Ward, and Steven H. Wilson. Join them and discover a world where everything old is new again—even the gods themselves. Published by Crazy 8 Press.
ReDeus: Divine Tales on Amazon
ReDeus: Divine Tales on Barnes and Noble
---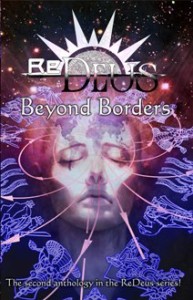 ReDeus: Beyond Borders a collection of tales exploring how the gods settle back in around the world beyond the United States. We'll see some returning characters from Divine Tales and some very familiar gods, but the writers have also chosen to explore different aspects of life within the first two decades after the pantheons of myth have returned. Everything has not necessarily turned out for the best, especially in some lands, yet it isn't completely terrible as we will discover. With so many gods vying for worship, there's some interesting jockeying going on, for lands and for people. It's a vastly different world the gods have discovered and while some embrace technology, others find it abhorrent. That in itself makes life among the mortals complicated, an ever-changing struggle to live and provide for their families.
Returning to ReDeus are the recently Nebula-nominated Lawrence M. Schoen, Scott Pearson, Steve Wilson, Phil Giunta, and William Leisner. Joining us for the first time are Kelly Meding, Janna Silverstein, David McDonald, Steve Lyons, Lorraine Anderson and of course, creators Aaron Rosenberg, Paul Kupperberg, and Bob Greenberger.  Published by Crazy 8 Press.
ReDeus: Beyond Borders on Amazon
ReDeus: Beyond Borders on Barnes and Noble