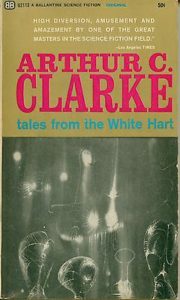 Harry Purvis is a master storyteller who regales his fellow patrons every Wednesday evening at the White Hart pub with fantastical yarns of eccentric characters and outrageous scientific catastrophes.
While Tales From the White Hart is considered one of Clarke's most popular anthologies, I found a handful of the stories—such as "Big Game Hunt", "Critical Mass", "Cold War", and a few others—to be either prosaic, mundane, or anticlimactic. However, there were a number of humorous and rousing romps, including:
"Patent Pending" – After a professor invents a device that records brain waves corresponding to human sensations, his assistant envisions a far more profitable, and sensual, use for the device…
"Armaments Race" – While working on a low-budget SF series for Hollywood, a special effects expert is tasked producing ever more impressive ray guns… until he creates one that actually works—with devastating results.
"The Pacifist" – The military presses a mathematician to construct a computer capable of flawless combat strategy. When the project begins falling behind schedule, the scientist is bullied by a clueless general. In response, a hidden circuit is built into the computer—one that turns out to be hilariously insubordinate.
"The Man Who Ploughed the Sea" – Harry Purvis travels to Florida with a lawyer friend to explore the coastal waters in a small submarine. During their expedition, they encounter a large yacht owned by an elderly chemist who invented a method for collecting elements and precious metals directly from saltwater.
"Moving Spirit" – When an eccentric, reclusive scientist's still explodes, he finds himself arrested for manufacturing illegal alcohol and requests help from his nephew, Harry Purvis, attorney-at-law. With the odds stacked against them, Harry literally concocts an incendiary defense for his uncle.
"The Reluctant Orchid" – A meek, timid clerk with an affinity for orchids is routinely intimidated by his imperious Aunt Henrietta. After planting a rare, carnivorous species of orchid in his greenhouse, he soon devises a plot to get rid of her…
"What Goes Up" – In the deserts of Australia, a team of scientists are confounded while testing a new design of nuclear reactor. Rather than an explosion, the reactor forms an anti-gravity bubble several hundred feet in diameter. Entering the bubble, however, could prove as dangerous as falling off a mountain…