Former SF writer turned journalist Martin Gibson is given the honor of being the first and only passenger aboard the cruise ship Ares on its journey from Earth to Mars. His task is to chronicle both his travels and his time on the red planet and report back on the progress of the Earth colony there.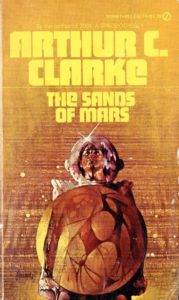 Despite a challenging launch to Gibson's adventure—during which he learns just how much actual space flight differs from what he'd imagined in his novels—he eventually befriends the crew and, to his consternation, discovers a personal connection to the youngest of them, Jimmy Spencer.
While en route to Mars, the Ares is contacted by Earth and told to expect a rocket containing a vital serum intended to battle Martian Fever. However, the rocket's course is such that the odds of intercepting it are slim unless the Ares is able to contact the rocket's navigational transceiver and adjust its course. With some jury rigging of equipment, two of the crewman accomplish the mission and the serum is procured.
Destined to land on the Martian moon of Phobos, the Ares is inexplicably diverted to Deimos where it lands and transfers Gibson, his luggage, and supplies to a rocket which will take him to the surface of Mars.
At first, Gibson finds himself unimpressed by the alien landscape and the domed town of Port Lowell, the largest city on Mars. However, as the days pass, Gibson warms to the place and begins to explore—with results that could change the evolution of the red planet and turn Mars into mankind's second home… if only Earth could be convinced to cooperate.
The Sands of Mars was Arthur C. Clarke's first finished novel, but was published after Prelude to Space, and the similar concept of a writer hired to report on an expedition was obvious. However, unlike Prelude to Space—with its utter lack of tension and plot—The Sands of Mars was an engaging story with interesting characters (something Clarke was not always known for) and enough foreshadowing, twists, and turns to hold my attention until the end. Clarke did not belabor the reader with lengthy infoblocks of scientific jargon, but kept a steady pace, revealing just enough scientific fact to maintain credibility.