Typically when I review an anthology, I will enumerate my favorite stories and briefly provide a blurb about each one. In the case of 50 Short Science Fiction Tales—edited by the legendary Isaac Asimov and renowned anthologist Groff Conklin—that would be a daunting and tedious task.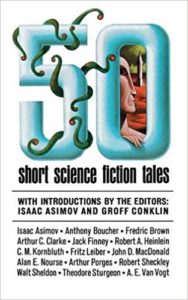 Suffice it to say that like any collection, certain stories are better than others and this one is no exception. However, the majority of the entries are some combination of witty, engaging, chilling, thought provoking, or amusing. Of course, how could it be otherwise with such luminaries as Isaac Asimov, Arthur C. Clarke, Robert Heinlein, C.M. Kornbluth, Robert Sheckley, Theodore Sturgeon, and A.E. Van Vogt, just to name a few.
Most of the stories here are no more than 3,000 words. The book opens with a short poem by Poul Anderson and closes with six haiku written by his wife, Karen. I highly recommend this anthology both to aficionados of the golden age of SF or as an introduction to many of the top talents of the time.