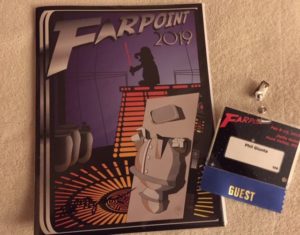 Although I woke up to a gray, soggy morning, the skies cleared an hour before I began my trek to Farpoint's 26th annual SF convention in Hunt Valley, MD.
After collecting my registration materials and checking into my room at the Hunt Valley Marriott Delta, I opened the program book directly to my second place winning story from last year's Farpoint Writer's Contest!  Click here to read "All That Matters is What You Believe."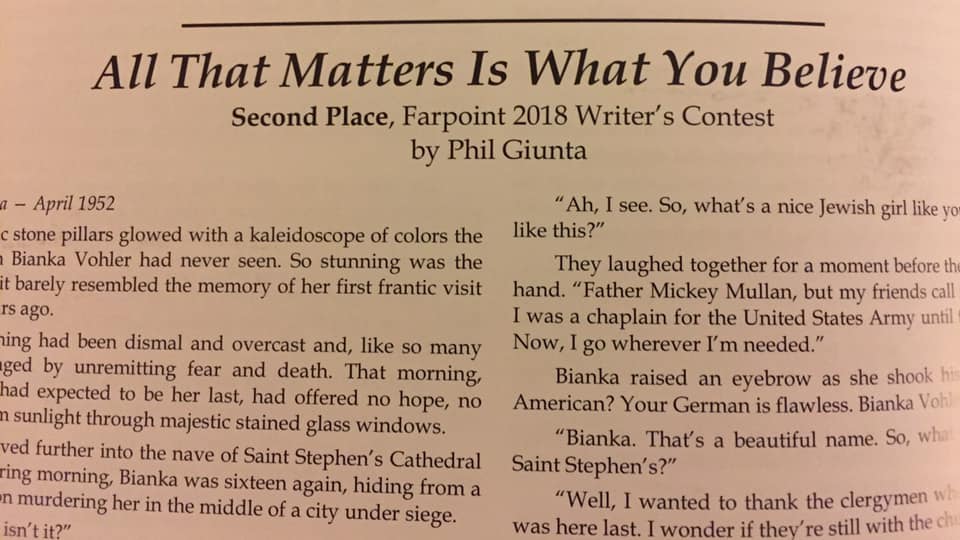 In between reuniting with several friends, I scored a set of Stranger Things trading cards from friend and artist Laura Inglis, dealer room coordinator for Farpoint, Laura also created the cover art for all three of my paranormal mystery novels.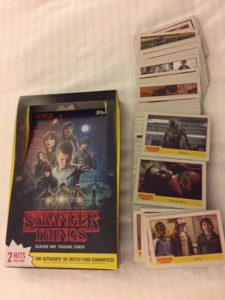 After my wife arrived later in the evening, we enjoyed dinner at the Nally Fresh in Timonium and returned to the hotel in time for the 10PM book fair. I shared a table with fellow writer pals Steven H. Wilson and Michael Critzer. Sitting in one place for two hours allows for plenty of quality time for catching up with friends in addition to selling books and happily, I did both!
Afterward, I spent some quality time at the bar with two glasses of Pepsi and fellow writers Kelli Fitzpatrick, Erik Bakutis, Heather Hutsell, Aaron Rosenberg, Russ Colchamiro, Keith DeCandido, Derek Tyler Attico, and David Mack. It was a fun end to a long day.
Saturday began with the Firebringer Press Presents panel at 11AM in Salon C hosted by Steve Wilson, Michael Critzer, and yours truly. Although our audience was small, we chatted about our current releases and upcoming projects.
At 1PM, Steve and I hosted the second stop on our book tour for Firebringer Take Two, the double horror novel consisting of Steve's vampire tale, Freedom's Blood and my paranormal mystery, Like Mother, Like Daughters. The launch was held in the con suite complete with lunch and dessert. Steve and I both read excerpts from our respective stories and sold several copies of the new book as well as a few backlist titles.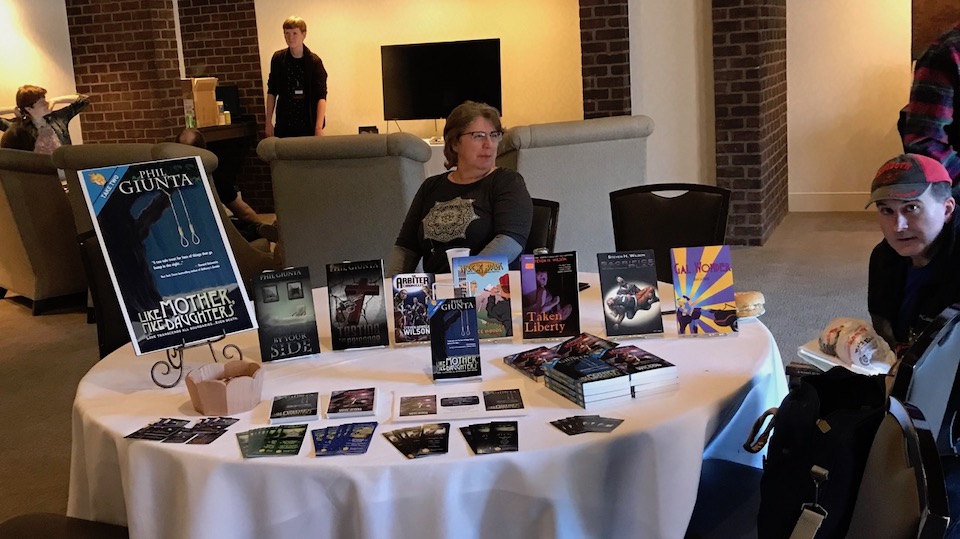 My next panel was supposed to be Fandom in Miniature, a discussion of SF toy collecting, at 3PM with Ethan Wilson, Thomas Atkinson, and Cindy Woods. Unfortunately,  I found myself stuck in the endurance test known as Wallace Shawn's autograph line. He was friendly and loquacious, engaging everyone in conversation. It was a true pleasure to meet him.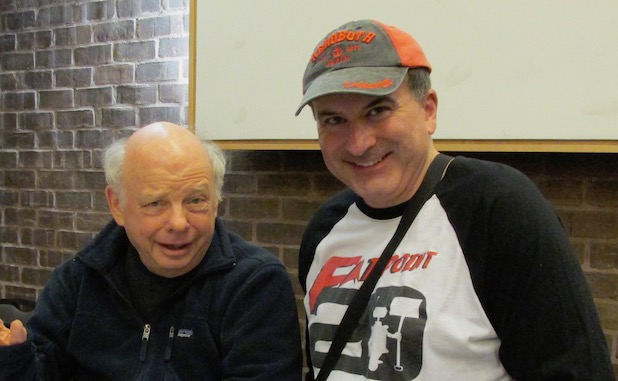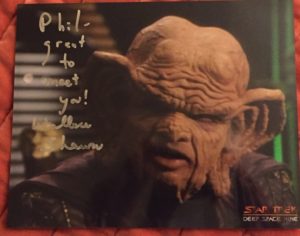 After sharing a wonderful dinner with Steve Wilson, June Swords, and Renfield, Evon and I decided to call it a night.
After packing up my car on Sunday morning, I dared one more pass through the Wallace Shawn autograph line. Thankfully, it was a bit shorter this time and I made it out in time to chat with writer pals Aaron Rosenberg, Russ Colchamiro, Heather Hutsell, and Michael Jan Friedman before my next event.
At 1PM,  I joined Peter David in the ballroom to co-host the screening of Dreams with Sharp Teeth, the 90-minute documentary about legendary writer Harlan Ellison, who passed away in June 2018. It was a wonderful tribute and, judging by their reactions, the audience seemed to enjoy it.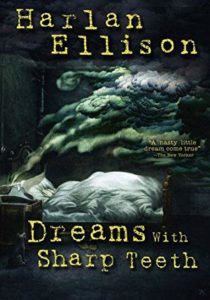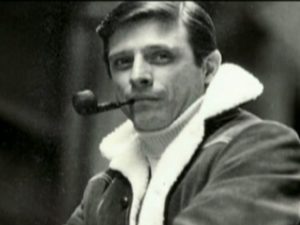 The final event of the con was Wallace Shawn's 3PM stage talk during which he answered questions about his career as an actor and playwright. In addition to Deep Space Nine and Princess Bride, he spoke about working with Woody Allen on Radio Days and spending a year in India as a young man. Some of his responses were intentionally cryptic. For example, when it came to playing Grand Nagus Zek on DS9, Shawn said that he had channeled someone he knew personally, but would not reveal any further details. Similarly, when asked about his favorite books, he preferred to keep that a secret.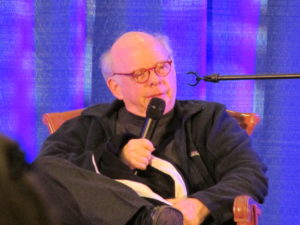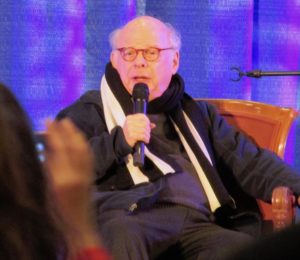 On my way out, I finally had the chance to take a brief tour of the dealer room and found a few vintage Star Trek items at incredibly low prices from a dealer who was selling off his personal collection.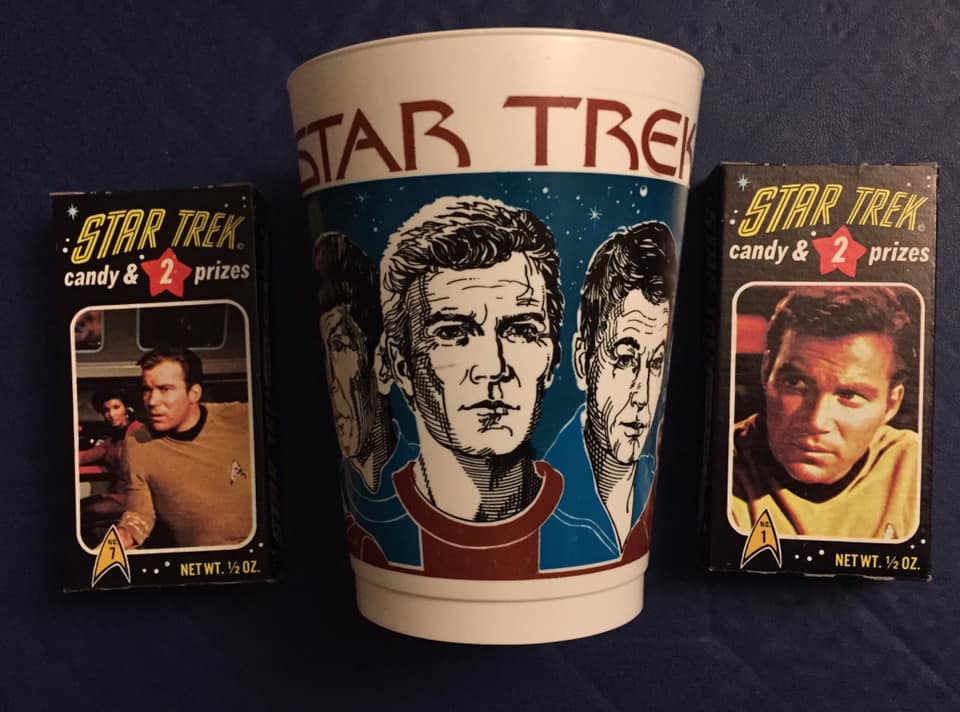 Of course, no SF convention would be complete without a vast array of talented cosplayers and those pictured below are only a small sampling from the weekend.