A lost journal by Doctor John H. Watson—discovered by Nick Meyer's uncle in the attic of a home in Hampshire, England—tells the tale of Watson's desperation to permanently exorcise Sherlock Holmes of the demons of cocaine addiction. In seeking advice from a fellow physician, Watson learns of the unorthodox methods of a Viennese psychiatrist.
Meanwhile, Holmes has been spending his days and nights in the dogged pursuit and general stalking of Professor James Moriarty, the "Napoleon of crime!" as the famous detective has come to consider him. Surely, the fiend is up to something and must be stopped.
For his part, Moriarty, a humble math professor, has no idea why Holmes is shadowing him and implores the assistance of Watson who believes the genteel man to be honest. Together with Sherlock's older brother, Mycroft, Watson convinces a reluctant Moriarty to travel to Vienna hoping that Sherlock will follow.
The plan works perfectly, and Watson "guides" Holmes to the residence of Doctor Sigmund Freud where both physicians attempt to rehabilitate the master detective and cure him of his hideous addiction through hypnosis. Needless to say, Holmes's withdrawal and convalescence are torturous to both himself and Watson.
At the same time, a young catatonic woman is brought into the local hospital and Freud is summoned to look in on her. Holmes and Watson decide to join him. Freud again employs hypnosis to discover that the woman is actually Nancy Slater, the American widow of the late Baron von Leinsdorf and had spent her honeymoon in an attic!
Holmes, as usual, applies his extraordinary powers of observation to determine, based on her physical condition, that the Baroness had been abducted, bound, and imprisoned in an attic somewhere near the river among closely constructed factories and warehouses.
From here the game is—as Holmes would say—afoot as our intrepid trio attempts to solve this nefarious crime.
I'd first read The Seven Per-Cent Solution over 15 years ago, but no longer had my copy. I was fortunate to meet Nicholas Meyer at the Farpoint convention in February 2017 wherein I purchased a newer edition and had it signed. Meyer is, of course, the direct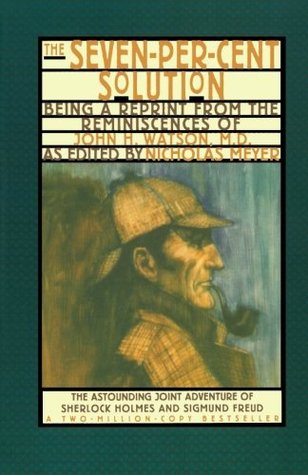 or of many excellent films including Time After Time, Star Trek II: The Wrath of Khan, and Star Trek VI: The Undiscovered Country. He also co-wrote those Star Trek films along with Star Trek IV: The Voyage Home. He also wrote the screenplay based on the novel I am currently discussing.
The Seven Per-Cent Solution is a thoroughly enjoyable read that felt like a solid Sherlock Holmes tale. Narrative, pace, and dialog were mostly faithful to Doyle's work, and a young Sigmund Freud was represented in a way that honored his reputation and abilities.