After a scientist named Benes is successfully transported into the country from enemy territory, an assassination attempt leaves him with a dangerous and inoperable clot at the base of his brain.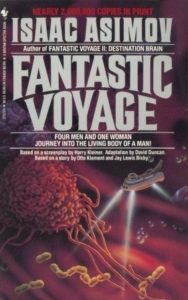 The situation falls under the jurisdiction of the CMDF (Combined Miniature Defense Force) run by General Alan Carter and Colonel Donald Reid. Once Benes is stabilized far underground in CMDF headquarters, a team is formed that will be miniaturized and injected into Benes's bloodstream to destroy the clot from inside his body using a laser.
The team consists of civilian CMO Michaels, neurosurgeon Peter Duvall and his assistant Cora Peterson, special agent Charles Grant—who smuggled Benes into the country—and Captain William Owens, designer and pilot of the experimental submarine Proteus, which will carry the crew through Benes's circulatory system. They are given one hour to complete the mission and exit Benes's body before the miniaturization effect begins to reverse.
As if this were not dangerous enough, there is suspicion that one among the crew might be an agent for the Other Side, sent to kill Benes. Every setback and mishap causes yet another member of the team to come under scrutiny as precious time ticks away…
Contrary to popular belief, the classic film Fantastic Voyage was not based on the novel by Isaac Asimov. It's the other way around. Otto Klement and Jay Lewis Bixby wrote the original story, which was adapted for the screen by Harry Kleiner and David Duncan. Asimov was hired on to write the novelization of the movie and he did a decent job with the material. While character development is non-existent (with the most interesting being Grant, Duvall, Michaels, and Peterson) the pacing is perfect and the challenges that plague our heroes at almost every turn maintain solid tension through to the end.