This collection of 11 reprinted tales edited by Groff Conklin features some of the most skilled storytellers in vintage SF including Arthur C. Clarke, Isaac Asimov, H.P. Lovecraft, Lester Del Rey, Ray Bradbury, Frederic Brown, and more. There were at least three entries that I recalled reading in other collections as recently as a few months ago, but they were absolutely worth a second pass.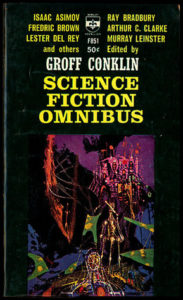 In A.J. Deutsch's "A Subway Named Mobius," an entire passenger train is lost for months in a closed rail system. When transportation officials and a local mathematician with a theory attempt to locate the train, they discover that they can hear it—in multiple locations—but cannot see it since it has passed into another dimension. Will the train ever reemerge and if so, how can this be prevented from happening again?
In one of H.P. Lovecraft's most popular stories, a meteorite crashes into a field of crops where it begins to poison both soil and water, driving the farmer and his family insane. It's soon discovered that the vile, luminous substance that infected the area might be intelligent. How will the locals rid themselves of "The Colour Out of Space"?
When alien psychologists learn that Earth has finally achieved interstellar travel, the decision is made to invite them into the Federation of Planets, an honor which no race has ever turned down… until now.  Discover why in Isaac Asimov's "Homo Sol."
Anthony Boucher brings us hapless ventriloquist Paul Peters who encounters a benevolent extraterrestrial creature at a local zoo. The alien, relieved to finally find someone with whom he can communicate, enlists Paul's help in finding his long lost love. At first, the pair is undecided on a strategy until Paul comes up with a new routine known as "The Star Dummy."
A spaceship explodes ejecting its helpless crew into space. Fortunately, they'd had just enough time to don their spacesuits—but not their personal propulsion systems. As a result, each man is hurled on an uncontrollable trajectory with just enough time to settle their differences and make peace with their collective fate in Ray Bradbury's "Kaleidoscope."
When an Earth naval vessel lands on the alien world Shaksembender, the crew of three is greeted by a party of wary copper-skinned humanoids who had been expecting their arrival based on the prophesy of Fraser, the first human space explorer to visit their planet 300 years ago. Using a hidden mind-reading device against the alien emissary, the pilot of the Earth ship discovers that Fraser warned the aliens to be circumspect if the next human explorers utter two specific words… but will we ever learn those words in Eric Frank Russell's "Test Piece"?
The incompetence of bureaucracy at a Galactic level is showcased in Murray Leinster's "Plague."  When all the women of the planet Pharona are consumed and killed by a bizarre luminescent organism, the planet is placed in quarantine and Space Navy reservist Ben Sholto is dispatched in his private vessel to ensure no one escapes. When a ship, piloted by Ben's lost love Sally, emerges from Pharona, he takes her aboard in an attempt to cure her, making them both fugitives.
In John D. MacDonald's "Spectator Sport," a scientist travels into the future only to find society under control of a government that does not take kindly to independent thinking and prefers its citizens to be docile zombies.
In Arthur C. Clarke's much reprinted "History Lesson," five thousand years after an ice age has claimed all human life on Earth, Venusians arrive and uncover relics left in a vault—one of which is a roll of 35mm film that they believe depicts typical human behavior… or not.
A concerned citizen confronts physicist John Graham about the doomsday weapon Graham is developing and leaves him with a frightening metaphor that strikes close to the heart in Fredric Brown's "The Weapon."
Long after mankind has gone extinct, a race of heuristic automatons have taken over the Earth. A group of robotic biologists undertake experiments to reboot the human race in order to learn more about the concept of "Instinct," which is also the name of this classic tale by Lester Del Rey.