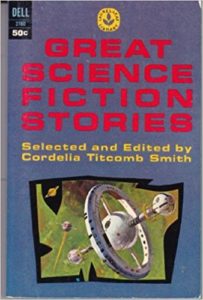 With few exceptions, most of my 2017 reading consisted of classic SF and speculative fiction primarily from Isaac Asimov and Arthur C. Clarke with a dash of Rod Serling, Alfred Hitchcock, A.E. Van Vogt, and H.G. Wells.
It stands to reason that if you read enough vintage genre anthologies, some will overlap and offer one or two stories in common. Such was the case with Great Science Fiction Stories compiled by Cordelia Titcomb Smith.
In  this case, I had previously read "The Stolen Bacillus" by H.G. Wells (about an anarchist who pilfers a vial of cholera bacillus from a bacteriologist, initiating a frantic taxi chase through London) and "History Lesson" by Arthur C. Clarke (after an ice age has wiped out humanity, Venusians land on Earth and discover artifacts of our civilization, including a strip of film that they believe accurately depicts human culture).
It was a pleasure to finally read Isaac Asimov's legendary short story, "Nightfall," wherein a civilization that lives in constant daylight provided by three suns nervously anticipates an eclipse that will shroud their planet in complete darkness for the first time in 500 years… and possibly throw society into madness.
When the Martian crown jewels are stolen from a robotic space craft sent from Earth to Phobos, Inspector Gregg questions everyone involved. Before the case explodes into an interstellar scandal, Gregg travels to Mars to request the help of Martian's famous private detective, Syaloch, in Poul Anderson's "The Martian
Crown Jewels."
In "The Sands of Time," P. Schuyler Miller channels H.G. Wells and Sir Arthur Conan Doyle. When a young man named Donovan presents a paleontologist with photographic and physical evidence of his
encounter with dinosaurs, the scientist rebuffs him—until Donovan asks for his help in launching his one-man time machine back to rescue an alien woman he encountered in a prehistoric age.
Money is no barrier when a wealthy businessman decides to be the first man in space. He hires engineers to construct a vessel, but they still require a propulsion system. The businessman takes out ads in
newspapers offering millions to anyone who can design and create a means of propelling the vessel beyond Earth's atmosphere. After being presented with proposals from the ludicrous to the insane, the
businessman meets an unassuming young man who might just have the answer… but he wants more than money. We find out what that is in Nelson Bond's "Vital Factor."
In a future where city streets are massive conveyor belts that transport people and vehicles at varying speeds, the mechanics decide to strike under the leadership of Deputy Chief Engineer Van Kleeck. To emphasize their power and ensure their demands are met, they stop the machinery beneath one of the streets—with fatal consequences. It's up to Chief Engineer Larry Gaines to negotiate with Van Kleeck, because as Robert Heinlein tell us, "The Roads Must Roll."
A teacher rethinks her decision to quit the profession, but the only available position is in a one-room schoolhouse in a remote rural town called Bendo where the reclusive inhabitants have no sense of humor and no interest in music or art. It is not long before the teacher uncovers the astounding otherworldly secrets of Bendo and the dark history that forced them into seclusion in this beautifully crafted tale called "Pottage" by Zenna Henderson.
Jules Verne provides a brief glimpse into man's first attempt to reach the moon as three men volunteer to venture "Into Space" inside a giant aluminum capsule shot from a 900-foot gun. Although they survive the shock of launch and enjoy a view of Earth from beyond the atmosphere, it's unclear whether they survived
the journey—or how they plan to return.
A new star appears in the vicinity of Neptune, disrupting the planet's orbit. As this new star's light intensifies in the sky each day—blotting out the moon and rivaling the sun—it isn't long before astronomers
realize that it's on a direct course for Earth in "The Star" by H.G. Wells.
A 13-year-old student named Timothy is sent to school psychologist Dr. Welles. At first, it's clear that Timothy is nervous,  uncommunicative, and possibly holding something back. As trust grows between the young man and his counselor, it becomes apparent that the boy is a prodigy… and he may not be alone in Wilmar H. Shiras's "In Hiding."
Overall, this was an entertaining anthology with tales from writers I had not heard of previously (Zenna Henderson, Wilmar Shiras, P. Schuyler Miller, and Nelson Bond). My favorites included "Nightfall," "Pottage," "The Martian Crown Jewels," and "The Roads Must Roll."