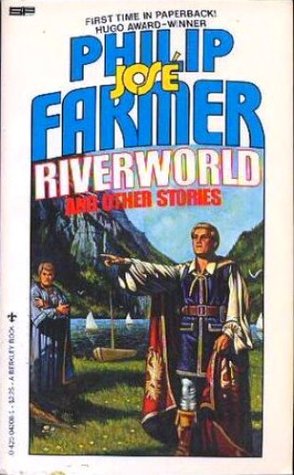 On Riverworld, no one ever dies… well, at least not permanently. Those who do are resurrected a few hours later elsewhere on the planet. Former western movie star, Tom Mix, found himself on Riverworld after his Earthly demise, along with billions of others from various eras in human history. Mix, along with his companions Yeshua and Bithniah, are on the run from a marauding conqueror Kramer when they join forces with John Wickel-Stafford, the lord mayor of New Albion and enemy of Kramer. Together, Mix and Stafford lead their forces in an attempt to stop Kramer's next invasion…
"Riverworld" is, of course, one of the better stories in this collection of eleven. My other favorites include:
"J.C. on the Dude Ranch" – At the XR Dude Ranch in Big Wash, Arizona, two imposing cowboys—the heroic J.C. Marison and the sinister Mr. Bales Bub—square off against one another, but it is truly a battle of Biblical proportions or something more cosmic?
"The Volcano" – Detective Curtius Parry investigates an impossible volcano recently formed in the backyard of Henry and Bonnie Havik. The eruption occurred shortly after hired hand and Mexican immigrant Juan Tizoc vanished. Could there be a burning connection between the two?
"The Problem of the Sore Bridge" – In Victorian England, journalist Harry Manders and gentleman burglar A.J. Raffles team up to investigate the disappearance of enigmatic rare gem dealer James Phillimore. At every turn, Manders and Raffles are merely seconds ahead of Sherlock Holmes and Doctor Watson, who are also on the case. Manders and Raffles soon learn that Phillimore is not at all what he appeared to be, nor are teardrop sapphires in his collection…
"Brass and Gold" – A hilarious romp focusing on a love affair between a Jewish wife and her eccentric Gentile artist neighbor that begins after her husband locks her in the bedroom with three meals per day in order to curb her gluttony and force her to lose weight…
Other stories include "The Jungle Rot Kid on the Nod," "Monolog," "The Leaser of Two Evils," "The Phantom of the Sewers," "The Henry Miller Dawn Patrol," and "The Voice of the Sonar in My Vermiform Appendix."